Whether you have sent your wheels in to be chromed, or you are sending your original wheels back from a chrome exchange, we are going to check every wheel for trueness upon arrival at our facility. At that time we may find that the wheels coming off of your vehicle are out of round. This may or may not have been something that you felt during use of your vehicle, but it is something that must be addressed before any finish work is applied.
Hazards that may cause this out of round condition can be virtually anything from potholes, road construction, railroad tracks etc., and may be made worse on vehicles equipped with lower profile tires. Out of round conditions affect the back side of the wheel, with today's highly offset wheels designs, the back barrel section of the wheel is unsupported. With vehicle manufacturers increasing the wheel size to 18s 19s and 20s, and decreasing the tire sidewall, this type of damage becoming more prevalent.
While a flat spotted wheel may be visible to the naked eye as shown to the right, an out of round wheel must be spun on a high speed balancer with no tire to see the run out.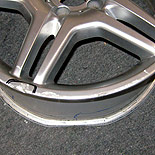 If you are sending your wheels to have a special finish applied, ultimately you decide whether we repair this condition or not. If you are returning a chrome exchange it will be necessary to repair these conditions and deduct the repair costs from your core deposit.
Get up to $3000
Bad credit or no credit? No problem!
Snap doesn't offer traditional loans. Instead, we offer a consumer lease that allows you to finance the merchandise over 12 months of convenient payments. We also offer a 100-Day payment option, the best terms around. Need new tires for your car? Or need automotive repair? Don't let bad credit stand in your way. Snap is your partner for fast and easy lease-purchase financing. Please apply here https://nxt.to/qdNWBpA
FINANCING : Snap! Finance
Snap! Finance has the following benefits:
Get up to $3,000, NO CREDIT NEEDED!
Easy electronic application with Instant approval.
Only $39 down (cash, credit or debit).
100 day CASH payoff with no early buyout fees!
Other discounted payment options available.
No additional documents required (e.g. paystubs).
What you will need to apply:
Social Security number or ITIN
Be 18 years or older.
Active checking account.
At least $1000 in income per month.