We Didn't Invent the Wheel, But We Can Make It Look Nice
Houston Wheel Repair is your number one source for wheel straightening, custom painting, welding and balancing. With over 10 years experience in repairing rims, we can guarantee we will do the job right. We offer  quality work at competitive prices, starting at US$ 75.00 for on-site service. To fix bent  wheels , Cracked Wheels prices starts at US$125.00.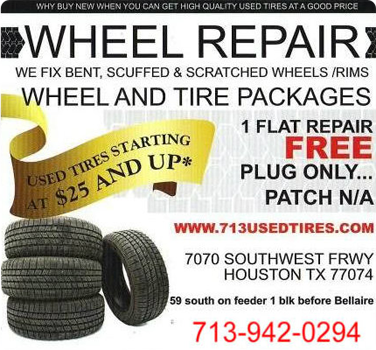 Wheel Straightening
Balancing
Custom Painting
Aluminum Welding
High-Speed Polishing
Repairs for All Makes & Models
We Repair Chrome wheel
OEM Wheel repalcements
Get up to $3000
Bad credit or no credit? No problem!
Snap doesn't offer traditional loans. Instead, we offer a consumer lease that allows you to finance the merchandise over 12 months of convenient payments. We also offer a 100-Day payment option, the best terms around. Need new tires for your car? Or need automotive repair? Don't let bad credit stand in your way. Snap is your partner for fast and easy lease-purchase financing. Please apply here https://nxt.to/qdNWBpA
FINANCING : Snap! Finance
Snap! Finance has the following benefits:
Get up to $3,000, NO CREDIT NEEDED!
Easy electronic application with Instant approval.
Only $39 down (cash, credit or debit).
100 day CASH payoff with no early buyout fees!
Other discounted payment options available.
No additional documents required (e.g. paystubs).
What you will need to apply:
Social Security number or ITIN
Be 18 years or older.
Active checking account.
At least $1000 in income per month.